Travelling with a Purpose
May Expedition 2020
28th May – 3rd June

A new expedition.
A new adventure.
A new crew
But the same ocean, ever changing, always challenging.
Always fascinating.

Video made by the legendary Ása Steinnars who came onboard to support our mission.
For the May 2020 expedition, we set sails again aboard Ópal, our wooden home. Our aim was to be able to replicate the route and make the same stops we did during our pilot expedition in 2019 in order to compare the status of the microplastic pollution and plastic in beaches between years.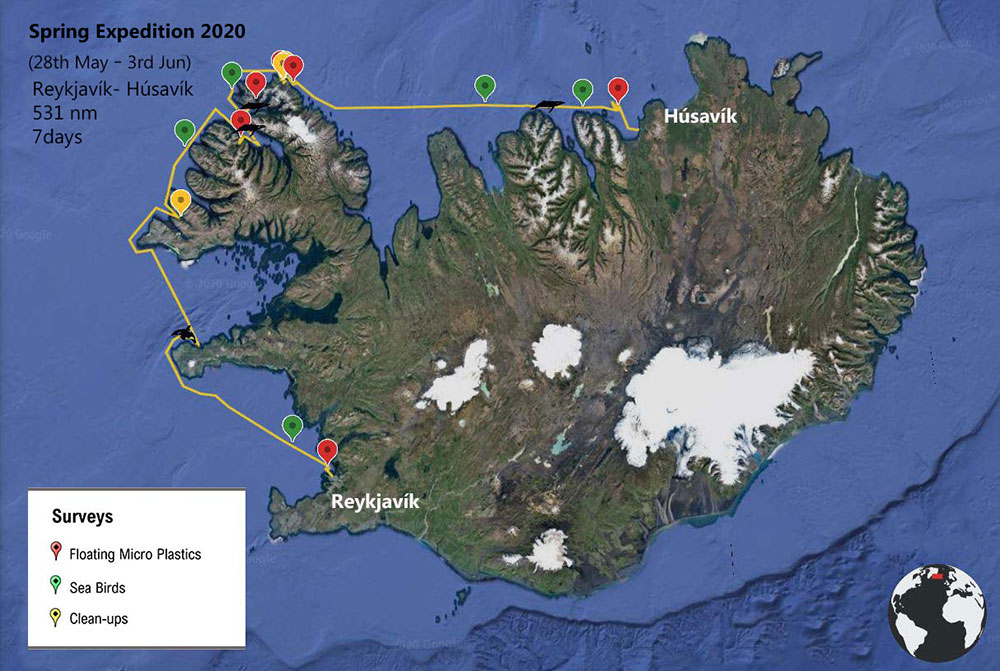 This expedition was remarkable, especially because the generally good weather conditions allowed us to explore and enjoy the landscapes and get amazing impressions about Iceland from the sea.

In total we did six microplastic surveys in coastal waters, a major clean up in Hornvík beach , in the Westfjords, six off shore bird surveys and we had five unique whale encounters.

We left the port of Reykjavík on May 28 on a calm day and ventured to Snaefellsnes peninsula. Here we encountered a pod of active killer whales and stayed the night in a little harbour.
Leaving the legendary Snaefessnell glacier behind us, we kept our journey towards the Westfjords, the wildest areas in Iceland. We find ourselves sailing the sheltered clam waters in the fjords between the powerful mountains, where the "hidden people" live (Icelandic trolls).

After a morning of rig climbing, a bird survey and microplastic samples analysis, we arrived in Isafjordur just in time for shopping and a meeting with the University's professors and students. It is always interesting to meet and chat with these inspiring people.

In the afternoon, we sail again on a calm ocean, stopping only to do a plastic survey near the fish farms. We spend the night anchored in one magic and sacred place surrounded by the spirits of nature, and we take a bath in the Opal hot tub and enjoy the endless sunset. Next day we went hiking exploring the remotest shores and rough landscapes of the West of Iceland. We got extremely lucky to find one of the guardians of these magic places, a beautiful and curious Arctic fox, with its brown summer colours.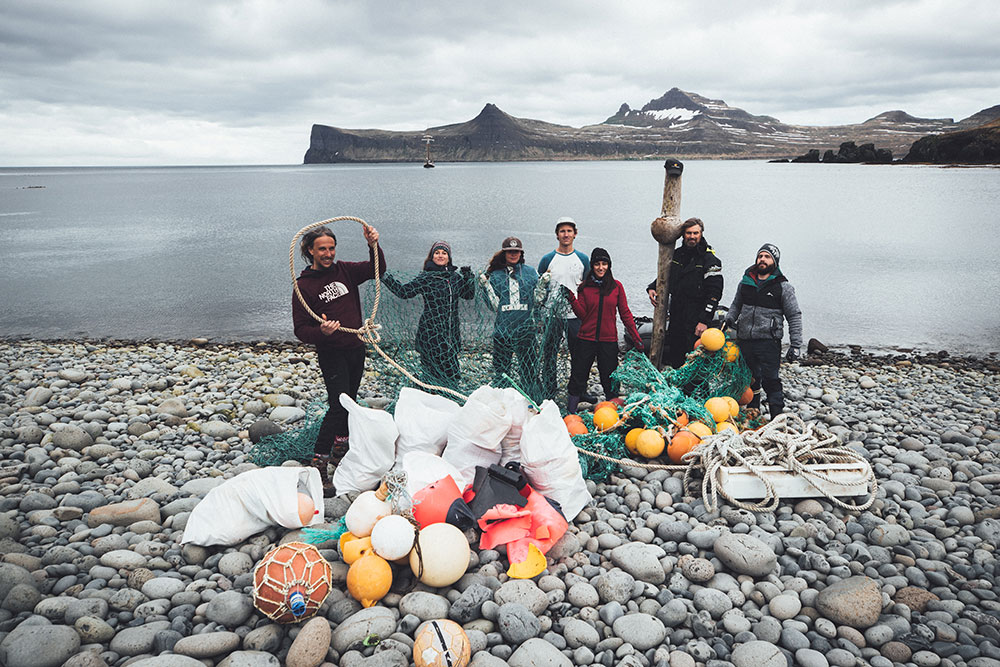 The next day we dropped anchor on Vigur Island, a paradise for birds. The constant stereo sound from the guillemots, puffins, eider ducks, phalaropes, arctic terns was overwhelming. But most special for us is to encounter the only King Eider duck on the island. King Eiders have an incredible and colourful appearance and they are one of the most beautiful, showy and characteristic species of birds that can be seen in Iceland. Lucky us! After a failed attempt at beach clean up – oops, private island! – we take a tour guided by Gisli, and we leave again at 16:00 to find more wonders of the Icelandic sea: about 4 or 5 humpback whales in the fjord system! Of which, thanks to our knowledge of photoID and our dedicated crew, we can identify 4.
We continue sailing along the coast where we caught some fish and did a stomach analysis – to see what they have eaten, and to go deeper into the knowledge of how badly microplastics are disrupting our ocean ecosystems.

On the way to the Northern fjords we explore the old whaling station, while cleaning these remote areas from beached trash. We cross rivers carrying hundreds of Kg of nets, buoys and other trash to the boat, no matter how difficult, the team makes it happen.

The nature of our island continues to be generous as ever, allowing us to observe seals, images that will never leave us.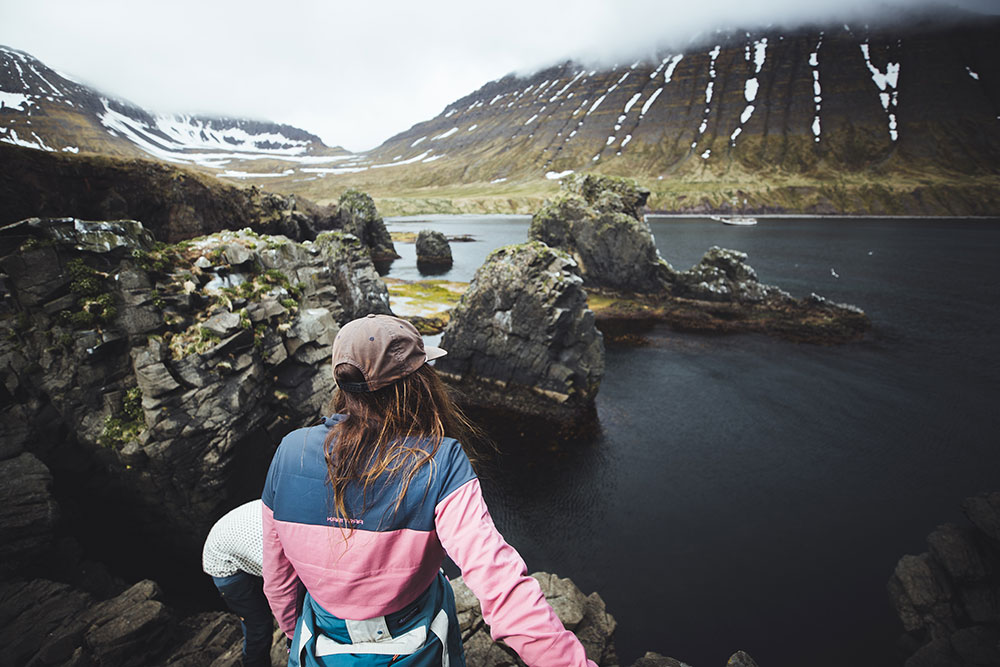 Upon returning to the navigation, we passed near some of the most spectacular bird cliffs in Iceland, full of nests and seabirds, which we decided to inspect more closely with the zodiak. After we made sure we took a microplastic survey with the manta trawl to investigate if microplastic pollution reaches as far as here and could be potentially impacting these birds. After a delicious dinner in Opal we gather together on deck to share stories and experiences. Now there is only one thing in mind: Next stop?

Our home town. It is time to prepare ourselves for the almost one day crossing from the Westfjords to the Northeast and we set our course to Húsavik.

The wind is favourable and Ópal seems nostalgic, but suddenly we reach up to 9 knots with all sails up and enjoy a fantastic sailing! On the way we do a couple of bird surveys.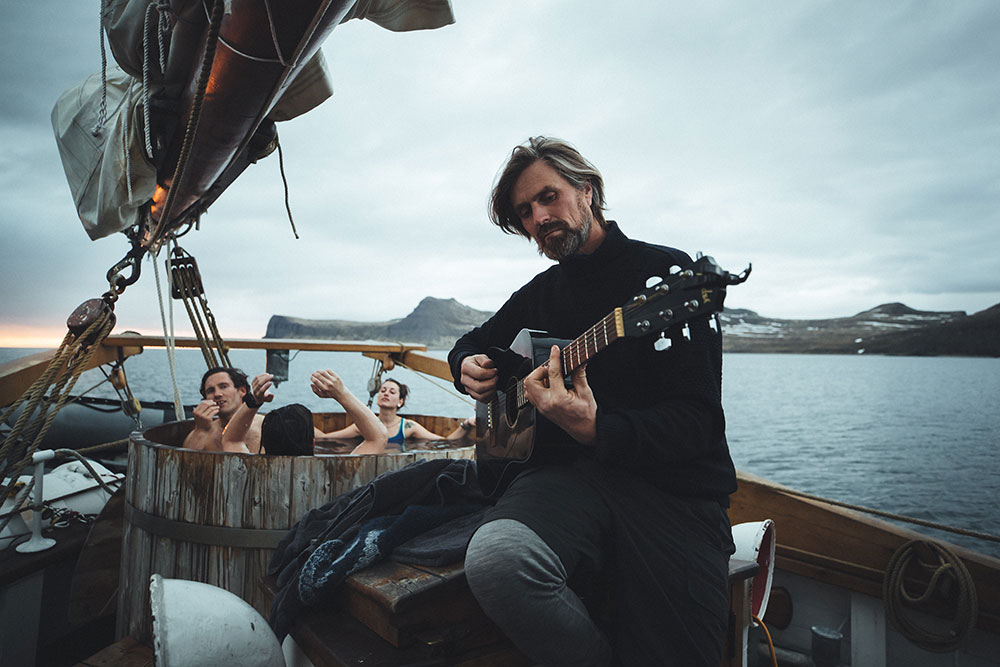 Sooty shearwater!! Charla screams focused on not losing her stability while using the binoculars. The sooty shearwater is a vagrant species in Iceland, and rarely seen. They spend the summer nesting on the Greenlandic coasts and then travel to West Africa in the Southern Hemisphere to spend the winter.

As we approach the mouth of Eyafjördur, once again, the immense luck of being surrounded by whales, this time about 7 humpback whales.

How lucky we are to have all this incredible biodiversity around us.

And there it is. Our Skjalfandi Bay, welcoming us.

And, in a corner between waves, fins and mountains, our final destination:

Húsavík.