Collaboration OCEAN MISSIONS x TWISTER
NEW HORIZONS! Together we are stronger! We are excited to announce that OM will join Tall Ship TWISTER in 2020 during their first HORIZON EXPEDITION! We love traditional sail boats and work with people with similar ambitions!
Ocean Missions and our partners BTOWU (By The Ocean We Unite) we are working together to provide an exciting sustainability program will fit TWISTER in their transatlantic expeditions. The emphasis is on plastic pollution and marine conservation. On this voyage you would learn about the sailing, the oceans, the marine life, the climate change. You participate on the research and set your environmental goals while exploring the warm tropical waters. Check it out!
TWISTER Routes
Expedition Horizon I: 6 January – 7 February 2020
Canary Islands – Caribbean. (Program led by Ocean Missions)
The trip will start in Canary Islands. Then, we sail away and begin our adventure. We set sails for the Cape Verdean islands and if we have time we will even make a stop there. After this, we cross the Atlantic to the Caribbean. After more or less 21 days we can should 'Land ahoy!' when we can see the very first Caribbean island. Then there's plenty of options. There are a lot of interesting islands to go to. You can think of the Boiling Lakes of Dominica, the mysterious St. Lucia. We end on a southern Caribbean island, Tobago. This is where the expedition will end. As a tanned sailor you will fly back home.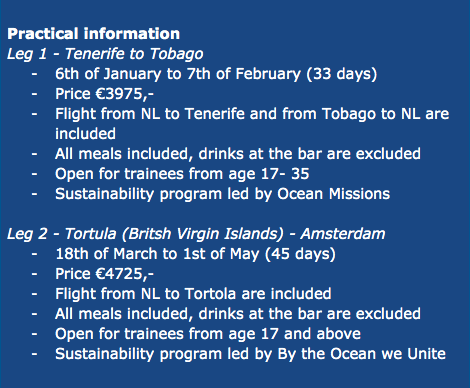 Expedition Horizon II: 18 March – 1 May 2020
Caribbean Islands – Europe (Program lead by BTOWU)
A journey for the ones who dare to take a challenge! This expedition has everything: sun, islands, blue water, palm trees, different cultures, rain, no wind, a lot of wind, swimming suits, waterproof clothes, being far from home and exploring home from a different perspective.
Tortola (British Virgin Islands) is where we will start the expedition. From then on you will be exploring some beautiful Caribbean islands. We visit Jamaica, Cuba or maybe even Bermuda, before we start setting sail for the Azores. When the wind is right, we make the last crossing from the Azores to European coasts. When there is the time we will also explore the seaside of France, England or Belgium. At the very end, we go through the locks of IJmuiden to end the expedition in Amsterdam.
The Ship
With her graceful design and sailing lines, Twister is a fast, reliable ship and is truly comfortable under full sail. Originally built with a wooden hull in 1902, her purpose was to transport fish between fishing boats and the harbour. Nowadays, she is refitted with a steel hull and transformed into a luxury passenger vessel. The two-masted schooner with a modern rigging system is built to perform excellently both on the Atlantic ocean or around the Caribbean.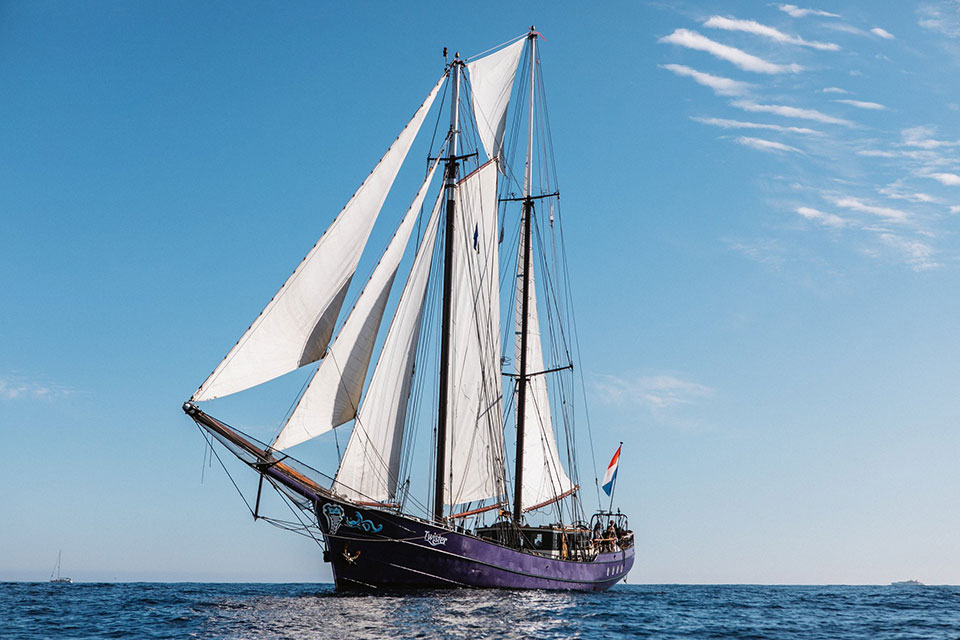 Do you want more information?
Do you want to join?
Visit this Web or contact:
Phone: Marloes Aafjes: (+31 6 3742 8452)
Our partners in this expedition: